EVAN CHAMPAGNE - SINGER/SONGWRITER
Blues Rock sensibilities and a unique voice not soon to be silenced or forgotten.
---
---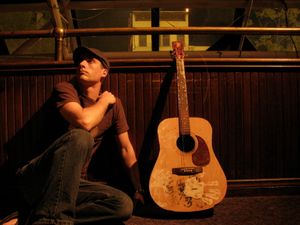 Evan Champagne takes an organic approach in fusing a variety of styles and instrumentation together with the acoustic guitar.
A multi-instrumentalist with truly signature vocals, he pushes things a step further with his artful use of live dub technology (aka: Live Looping).
Evan performs unique renditions of the hits as well as introspective original material - material which he sells hundreds of copies of yearly, bootleg-style, straight off stage. A live show is actually the only place you can purchase his hand-made album!
Ever grateful for his loyal audience of fans and friends, he strives to be a positive force musically and in his community.
Having found success creating an original solo performance over the past decade, Evan Champagne continues to be one of the busiest independent Canadian touring artists, performing over 200 times each year at festivals, music venues & private events.